Sticky rubber roller / sheet
Clean Dash / Clean Dash E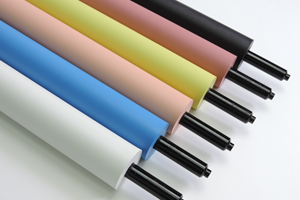 Dust/Static electricity removing sticky rubber roller
Dust is causing a large amount of loss in various industries.
Clean Dash will allow you to clean off dust efficiently with no damage to your products.
Depending on the rubber's type, you will be able to clean everything from thick tin plates to thin films such as 2 μm film.
Clean Dash E has the added function of neutralizing static electricity.
Dust removal sticky roller with environmentally friendly
Clean Dash ZERO/ Clean Dash ZERO-E/ Clean Dash Smart
ZERO series rollers are environmentally friendly products. Made of the soft rubber, the rollers fit curved or uneven surfaces and allow the roller's surface to lift the dust from your products effectively. What makes this roller environmentally friendly is its ability to be used repeatedly without using any other cleaning solvent but water.
Clean Dash Smart is for cleaning work clothes for the use in the clean room.