CEO Greetings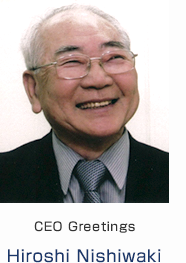 We, Techno Roll Co., Ltd, have grown up steady, responding to the customer's various demands and requests. In the off-set printing, we have made a favorable contribution to the domestic and overseas countries by proposing and supplying the excellent quality materials suitable for the high-sensitive UV printing with UV and LED-UV Lump which are of low power consumption (Trust Zeta for Inking Roller, Trust Lambda for Dampening Roller) and "Hickey Sweeper" of roller structure effective for removing hickey and ghost.
In addition, our "NEW ARC SYSTEM" is specialized in the save-energy and save-resources by squeezing the ink cleaning time and making it possible to be minimum consumption for washing detergents. Furthermore, the demand and necessity of our「Clean Dash」and「Clean Dash-E」have been raised since 「Clean Dash」is quite essential to put the sticky rubber roll to the machine for high-functioning film manufacturing , while 「Clean Dash-E」is of function to remove the static electricity.
We have bought 「Fuso Co., Ltd」located at Amagasaki City, Osaka Prefecture in February 2014 by Merge & Acquisition (M&A) and become our "Sister Company" now. New Research & Development (R&D) has been proceeded to make it possible with the high speed revolution in the down sheet metal gauging and ultra-weight-saving (lighting) by integrating the respective noted technologies of Iron Plating and that for CFRP(Carbon Fiber Reinforced Plastics)and Chromium Plating.
We are quite happy to corporate with our esteemed customers to make up our happy and bright future through the quality improvement and cost squeezing by making useful proposal for the machine and the rubber materials with a special function and structure.
President Greetings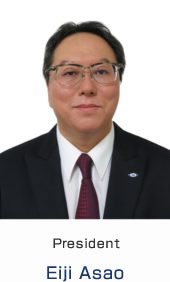 「Our goal is to supply high quality products which exceed customer's demands.」
Techno Roll Co., Ltd. was established in September 1979 and commenced its business and sales activities Takaishi city, Osaka Prefecture. We are obliged to our many esteemed customers using ordinal industrial rubber rollers as well as many offset printing enterprises. We sincerely wish to express our hearty appreciation. Since our founding, there has been an increased focus on developing new technologies which have a lesser effect on the global environment as well as protecting the worker's health. There have been many changes since then, and many of them with regards to the ink. For example, the oil used in oxidative polymerization type ink being changed from mineral to vegetable oil, as well as oxidation and polymerization drying ink being developed for use in "Powder-less" UV printing, which reduced the quantity of powder used in conventional printing. Furthermore, ink for UV printing using an illuminant UV lamp is now being used more and more than oxidative polymerization ink for offset printing.
In coating industries using rubber rollers, the transition from using a coating liquid containing organic solvents to water-soluble coating liquids can be seen.
It is promising to see that the technological development towards protecting the global environment and pursuing human safety is continuously making rapid progress.
Here at Techno Roll, we strive to make our products based on a management policy called "Field Oriented Policy". In this, we aim not only to improve our production efficiency, but also for compliance with the demands of the entire industry.
We bought FUSO CO., LTD by M&A in Amagasaki City, Hyogo Prefecture in February 2014, and it has become our subsidiary company. Since then, we have done our utmost to continue R&D in supplying high quality products using Iron Plating, which Fuso is the sole manufacturer of.
This unique and special method of applying Iron Plating on the CFRP (Carbon Fiber Reinforced Plastics), as well as developing a more environmentally friendly alternative to Hexavalent Chromium Plating, continues to deliver products and innovations that satisfy our customer's needs.
Mission Statement

We will create original and unique technology to be used worldwide.
We will do our utmost to delight and satisfy our esteemed customers.
We will seek personal perfection though our work.

Course of Action
■We shall get together in Techno Roll Co., Ltd. and shall improve our professional skills.
■We will contribute to society with our original and unique technology.