CEO Greetings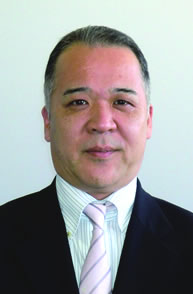 We will continue to grow with customers, suppliers and employees
Techno Roll Co., Ltd. has commenced its business operation by the late Mr. Hiroshi Nishiwaki in September 1979. Since then, we have been able to enjoy growing up so far, thanks to the patronage by so many wonderful customers and business clients around us.
When I entered Techno Roll Co Ltd. my employee numbers was 14. Yes it was a company consisting of  only 14 employees. Now the number of employee is 138, and I sincerely feel that it has been grown up to the big company, thanks to the customers, business clients and all our Techno Roll employees with the late Mr.Hiroshi Nishiwaki as a leading top management.
Now I ,myself ,is always bearing in mind that the company must further grow up continuously with all combined efforts as always, taking up the late Mr. H.Nishiwaki' will.
My Motto is "Jobs always should be accompanied with Joy and Fun". Otherwise it is no more "Job". Therefore my goal based on this concept is to ensure to make a favorable working circumstances.
I sincerely desire pursuing a great dream to form "WIN-WIN" relationships with the business partners worldwide and to expand and strengthen the relationships.
Mission Statement

We will create original and unique technology to be used worldwide.
We will do our utmost to delight and satisfy our esteemed customers.
We will seek personal perfection though our work.

Course of Action
■We shall get together in Techno Roll Co., Ltd. and shall improve our professional skills.
■We will contribute to society with our original and unique technology.