CLEAN-DASH ROLLER
DUST / REMOVING STICKEY RUBBER ROLLER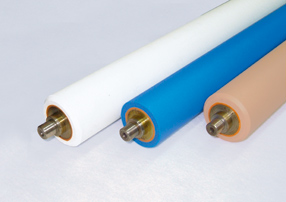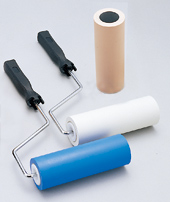 CLEAN DASH roller is a soft rubber roller with semi-permanent adhesiveness.
CLEAN DASH RUBBER
Even if clean by strong sovent, after drying it recover original stickiness. Stickey rubber roller with quite new concept that has few time changes. The stickiness of CLEAN DASH RUBBER depends on the nature of rubber itself, not on the mixture of bonding adhesive to the rubber. Consequently, bonding adhesive does not move to the partner material that contact.
Because CLEAN DASH RUBBER is very soft ( Hardness: JIS-A 10 to 30 ), the partner material that contacts is not damaged. CLEAN-DASH is also hard to be damaged, but even if it damaged, the progress of damage is very late,therefore can have long life.
It removes big dust to micron unit of small dust effectively by its strong sticking capacity.
The upper limit of temperature that the long time use of CLEAN DASH is 70 degrees, while short time use is up to 110 degrees.
Passed the Food hygiene test of Japanese government.
It can be use to severe use of quality control such as food, cosmetics, and pharmacy industry since it is not contaminated by heavy metal.(Heavy metal content are less than water······checked by Osaka City Industry Research Institute).
In addition to offer rubber roller, we receive all to an installation work from the design of the dust collector apparatus that have optimal mechanism to your apparatus with your request.
List of apparatus with clean dash rubber
| | | |
| --- | --- | --- |
| DUST HUNTER | Automatic dusts removal machine | FREE DESIGN |
| MINI DUST HUNTER | Small automatic dusts removal machine | FREE DESIGN |
| CLEAN DASH Unit | Hand-operated dusts removal machine | FREE DESIGN |
| CLEAN DASH MK-II | Dusts removal machine for metal printing | FREE DESIGN |
| DUSTER ONE / MINI | Dusts removal machine for general application. | READY MADE |
TYPE OF CLEAN DASH RUBBER
Thin steel zinc plating line factory.
Tin plate printing.
Aluminum sheet process factory.
Stainless steel skin pass line factory.
Stainless steel tension reveler factory.
Plastic film, gravure printing press facrory.
Video tape manufacturing factory.
Shadow mask factory.
Car press line factory.
Converted paper slitter factory.
Web printing machine factory.
Print plywood manufacturing factory.
Card board printing factory.
Corrugated fibreboard, flexo -grafic press factory.
Plastic laminating factory.
Paper manufacturing factory.
Copper stay manufacturing factory.
Printed-wiring board manufacturing factory.