You can get easy and effective printing method if you understand right trend of technologies.
We always take initiatives by studying printing from every possible angles and offer our original new technologies to the market. As world trend, markets for UV printing(quick dry) are increasing and we are leading the world in this field such as Film, LED-UV, Waterless printing system for future ECO printing market.
We contribute to our customers in realization of 滴igh quality printing + Total printing cost reduction・
TRUST ZETA is a special resin roller for UV, Hybrid, and back & forth UV-Conventional printing. It enjoys reputation among excellent printers for achieving the highest quality in UV printing, whether offset, dry-off-set, label printing, or vanish coating.
This roller does not allow ink permeation, in consequence, it demonstrates excellent dimensional stability, chemical resistance, and shorter wash-up times in addition to realization of high quality printing. Also it is used as standard rollers for major printing machines.
Hardness range : 20 ・65 Shore A
TRUST LAMBDA is a special resin dampening roller for UV off-set printing. TRUST LAMBDA has excellent hydrophilicity, less swelling, and less shrinkage performance.
In addition to solvent resistance, TRUST LAMBDA keeps excellent wet-condition on roller surface with high hydro-philic property which enable to have accurate dot reproduction. Therefore you can make stable supply of water without making rough treatment on roller surface.
TRUST LAMBDA is used as standard dampening rollers for major printing machines.
Hardness range : 20 ・40 Shore A
TRUST WL is antistatic UV roller with electric conductive property.
TRUST WL does not swell by wide range of solvent such as UV ink or coating liquid of solvent system. In addition, with electric conductive property, it has high effect on restriction of static electricity. Therefore, it can be used as printing roller for dry off-set printing ( Waterless printing) which cause static electricity. It is also good for coating various materials. You can have fine, smooth, and even surface of coating film.
Hardness range : 20 ・65 Shore A
SUPER PRESS SOY is printing roller for soybean ink or vegetable ink printing. It is NBR developed for ECO friendly ink printing.
SUPER PRESS SOY has good resistance against soybean ink and excellent dimensional stability. It can be used for oil based ink and high speed web offset printing.
Hardness range : 25 ・40 Shore A.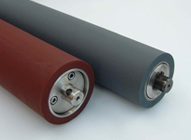 High grade printing rubber roller"WERO SERIES"licensed by WESTLAND Gummiwerke GmbH & Co., Germany. High Quality with optimum water supply and adjustment,excellent solution for alcohol less printing,long life,,etc.Enjoy high evaluation by printing machine makers.