We supply various kinds of our original technology consumables for printing. For example, dampening roller cover and doctor blade, suction rubber etc. These products are useful for your high quality printing.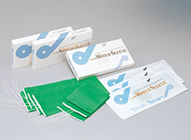 WATER SLEEVE is a dampening roller cover for offset printing made of special woven fabric and free from disadvantage of knit cover such as fluff, ink blot, crease, etc.
WATER SLEEVE is designed to fit to rubber roller easily by just pouring warm water.
WATER SLEEVE is used for continuous dampening system and substitute for moulton.
WATER SLEEVE restrain rib-mark, prevent ghosting, raise ink density, and lessen cost.
SUPER SUCKER is suction rubber with special abrasion resistance.
SUPER SUCKER excels in strength and shows good performance for high speed printing ( stronger suction power, quick release, no rubber-mark, long lifetime, etc.).
SUPER SUCKER has flat type for sheet-fed press and cup type for metal printing and coater.